Excavation works at the Vergina archaeological site during 2016 brought to light a wall dated to the Macedonian period, a development that, as long-time researchers of the specific dig announced, changes perceptions about the ancient city.
The excavation work and research of Vergina's walls and acropolis, carried out in the past decade, was presented recently during an archaeological conference at the Aristotle University of Thessaloniki.
In his presentation, Professor Panagiotis Faklaris and his assistant Dr. Vassiliki Stamatopoulou, detailed the findings at one of the pre-eminent Macedonian era monuments of northern Greece, namely, Vergina's fortifications.
The defence works, according to the archaeologists, are dated to the reign of post-Alexander regent King Cassander - roughly between 315 and 297 BC.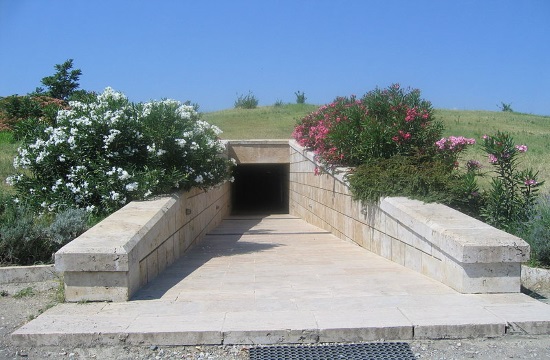 Photo Source: Wikimedia Commons Copyright: Rufus210 License: CC-BY-SA
About Vergina site
South of Beroia (ancient Berea) and the Haliacmon river are the remains of an ancient city believed to be ancient Aigai, the capital of Macedonia. The city has fortifications on an acropolis overlooking the settlement and a Hellenistic palace complex.
The palace is a large complex (ca. 104.5 x 88.5 m.) with rooms arranged around a peristyle court. Many of the rooms seem to have served as dining rooms or androns, many with mosaic floors. On the south side of the palace is a circular room, the "Tholos" which the excavator suggests may have served as a shrine and court of judgement. The complex dates to the end of the fourth century B.C. It appears to have been destroyed by fire in the mid 2nd century B.C. and abandoned. An inscription in the "Tholos" of the palace reads *H*R*A*K*L*H*I *P*A*T*R*W*I*W*I, "(dedicated) to Herakles the Father" ? i.e. the father of the Macedonian royal house.
Source: Tornos News